Support Our Heroes
Chess In Action's Support Our Heroes campaign is a special initiative we organized to gather the support of the national chess community in order to combat COVID-19.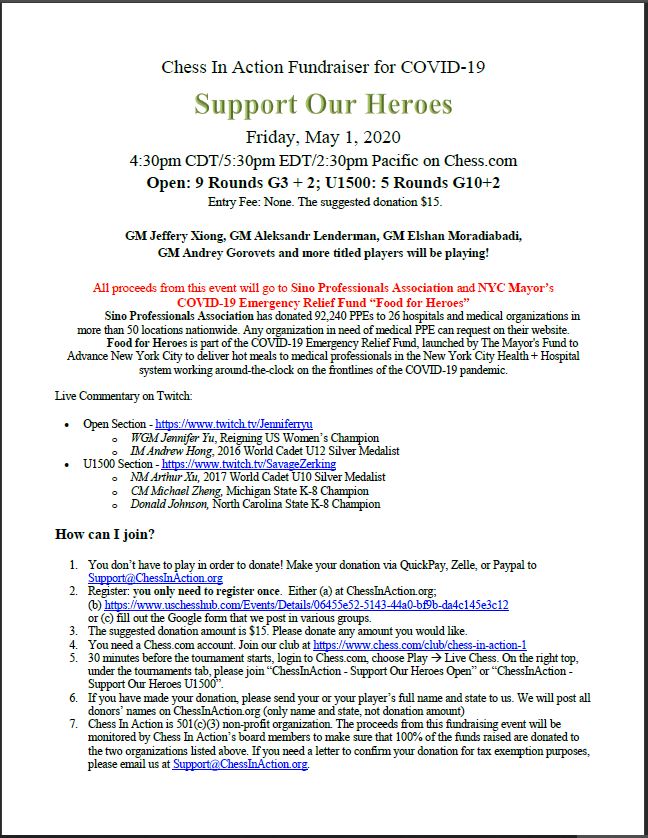 Fundraising
On May 1, 2020, Chess In Action hosted a virtual fundraising tournament on chess.com. We thank all of our participants for making the event a huge success, with 83 donors from 22 states raising over $2500, plus $400 company match. The proceeds from this event went to:
Sino Professionals in the Houston area have donated 92,240 PPEs to 26 hospitals and medical organizations in more than 50 locations nationwide. For more information, visit http://www.sinoprofessionals.org/about/about-us/.
Food for Heroes is part of the COVID-19 Emergency Relief Fund, launched by The Mayor's Fund to Advance New York City to deliver hot meals to medical professionals in the New York City Health + Hospital system working around-the-clock on the frontlines of the COVID-19 pandemic. For more information, visit https://www1.nyc.gov/site/fund/initiatives/food-for-heroes.page.
We are proud to acknowledge the generous contributors to this cause! For a complete list of donors, please click here.
Tournament
We are also excited to have organized a very lively online tournament as part of this event. We appreciate the participation of many strong Grandmasters, International Masters, and titled players in supporting our cuse, including: GM Jeffery Xiong, GM Aleksandr Lenderman, GM Andrey Gorovets, GM Elshan Moradiabadi, GM Andrew Tang, GM Ruifeng Li, GM Aleksandr Lenderman, WGM Annie Wang.
Altogether, 76 players participated in the Open section, which was topped by GM Jeffery Xiong and GM Ruifeng Li at 8/9 (Xiong won on tiebreaker). FM Josiah Stearman finished close behind with 7/9. In addition, 38 players participated in the U1500 section.
We are grateful for the efforts of US Women's Champion WGM Jennifer Yu and IM Andrew Hong, who hosted a live commentary stream on Yu's Twitch channel @JenniferRYu. In addition, we appreciate the U1500 section's live commentary provided by CM Michael Zheng, NM Arthur Xu, and Donald Johnson on Zheng's Twitch channel @SavageZerking.
A huge thank you to all the participants, donors, and volunteers who made this event possible!