2021 Winter Break Tournament Game Reviews
From December 26, 2021 to December 30, 2021, Chess In Action has hosted three online tournaments in order for players to practice and improve their chess skills. After each tournament, IM Justin Wang held zoom review sessions to review the games submitted by the tournament players.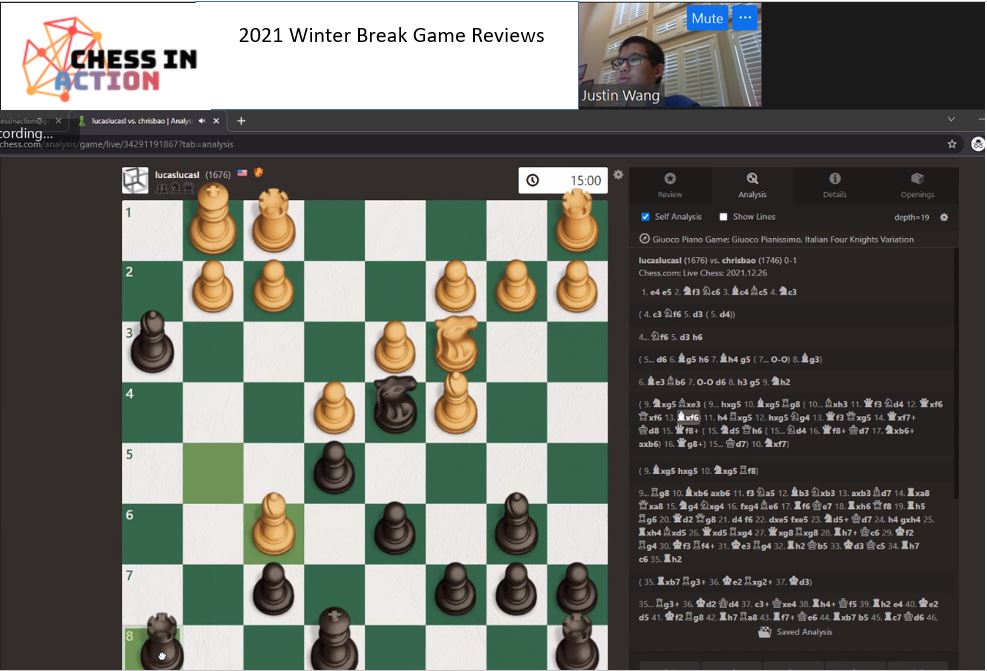 2020 Summer Online Chess Seminar Series
In the months of June-July 2020, Chess In Action held a series of virtual weekly seminars for a national audience of young chess players. The final seminar was held on July 31. We warmly thank our attendees and our presenters that made these events possible.
Presenters: Jason Wang (TX), Harrison He (MI), Jonathan Meng (NH), Neil Chowdhury (WA), NM Justin Liang (MI)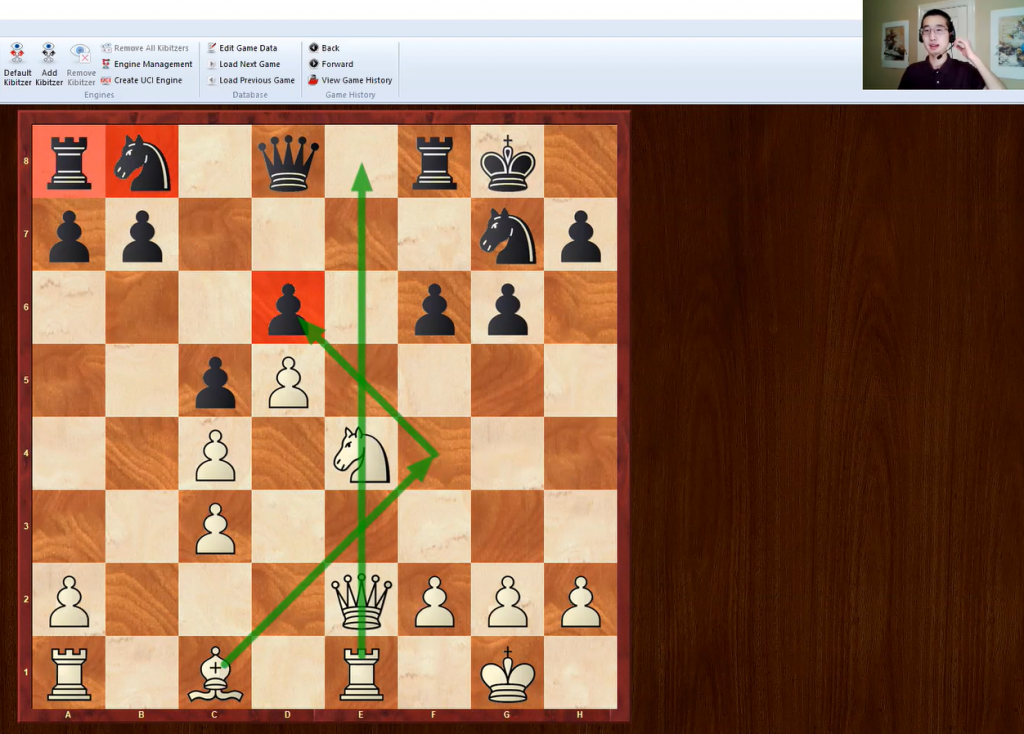 Opening a Line of Attack – A Thematic Approach
June 19, 2020 @ 3:00 – 4:00 pm CT
Presenter: Jason Wang (Texas)
Target audience: USCF under 1200
In chess, as in life, opportunities do not arise freely. Often, it is necessary to engage in insightful planning, opening avenues of attack through visualization of piece placement and removal of opposing barriers. We will be learning from demonstrative examples for the first 30 minutes; then, we will apply what we've learned to a real game played by Cuban World Champion José Raúl Capablanca. Students will learn how to proactively create their own checkmating opportunities and elevate their game.
Secrets of King and Pawn Endgames
June 26, 2020 @ 3:00 – 4:00 pm CT
Presenters: Members of the Phillips Exeter Academy Chess Team (Jonathan Meng, Neil Chowdhury, Harrison He, Jason Wang)
Target audience: USCF under 1000
Kings and pawn endgames have to be some of the most deceptively simple concepts in chess. We will discover a unique battleground for players to train calculation, planning, and pattern recognition. Through illustrative examples, this lesson will prepare participants for the study of more complex endgames.
Aggressive Opening Play
July 3, 2020 @ 3:00 – 4:00 pm CT
Presenter: Harrison He
Target audience: USCF under 1200
Setting yourself up for success in the opening is one of the most important aspects of chess, and learning fundamental opening principles is necessary for developing a deeper understanding of the game. In this seminar, we will be discussing basic opening principles, as well as expanding into more aggressive lines of play that can be used to put opponents in uncomfortable situations. We will also show how material is sometimes overvalued by chess players in favor of sound positions.
King and Rook Endgames
July 10, 2020 @ 3:00 – 4:00 pm CT
Presenters: Harrison He and NM Justin Liang
Target audience: USCF under 1400
Endgames are an important phase of many chess games. King and rook endings are among the most challenging endgames you'll encounter. There are certain key positions that are important for any player to develop a level of proficiency with— we will be analyzing these in detail!
Tactical Thinking: Spotting Opportunities Moves Ahead
July 17, 2020 @ 3:00 – 4:00 pm CT
Presenter: Harrison He
Target audience: USCF under 1200
There are tactical patterns, tactical ideas, but above all, tactical thinking. In this presentation, we will be exploring the mindset of chess greats like Morphy and Fischer as they create tactical opportunities and execute their plans. Let's discuss carrying out sacrifices through positional intuition.
Fundamentals of Calculation
July 31, 2020 @ 3:00 – 4:00 pm CT
Presenter: Jason Wang
Target audience: USCF under 1200
We will be exploring various tactical and positional ideas, thinking about candidate moves and organizing our train of thought. Methods of calculation can serve to benefit any phase of your game.